Celebrate Onalaska
Van Riper Park [Onalaska]
Event info
Details
It's an All-American Celebration! What's more American than good food, great entertainment, activities for people of all ages, and the best fireworks display in the area? It's time to Celebrate Onalaska! Join the fun!
Saturday, June 25 at Onalaska's Van Riper Park and Onalaska Omni Center.
It's a FREE event with no admission or button fee! Enjoy all kinds of food and refreshments like burgers, brats, hot dogs, chips, soda and water.
For a schedule of events go HERE!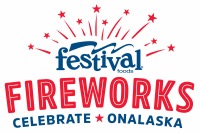 Buy tickets