---
Chase Bryant and Jimmie Allen at the Summer Kickoff Concert!
Copeland Park & Events Center [La Crosse]
---
Event info
Details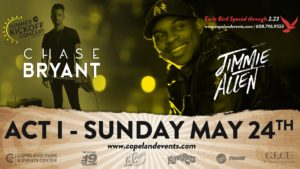 Breakthrough country stars Jimmie Allen and Chase Bryant will headline the fourth annual Summer Kickoff Concert event at Copeland Park & Events Center on Sunday, May 24th!
Tickets are currently on sale, with three different ticketing levels available. Pricing for the grandstand general admission area are currently $30, with Field Level general admission seats starting at $35. Limited VIP Deck Passes are available for $70, which includes all-you-can-eat food and three adult beverages on the VIP Deck, plus access to the Field Level general admission area.
Pricing info current as of 2/26/2020. Full ticket information can be found at www.copelandevents.com.
CHECK OUT THE WIN STUFF PAGE FOR A CHANCE TO WIN TICKETS!