La Crosse County youth show animals at Wisconsin State Fair
Written by Kaitlyn Riley on August 8, 2019
More than 1 million people are expected to attend the Wisconsin State Fair in West Allis before the event closes Sunday. With less than two percent of the nation being involved in agriculture, many may not know what goes on in the agriculture buildings.
While showing dairy cattle at the Wisconsin State Fair last week, Ashlee Garbers, 16, of La Crosse took it upon herself to answer questions from fairgoers walking through the barns.
Ashlee Garbers, 16, soaks in every moment of showing at the Wisconsin State Fair.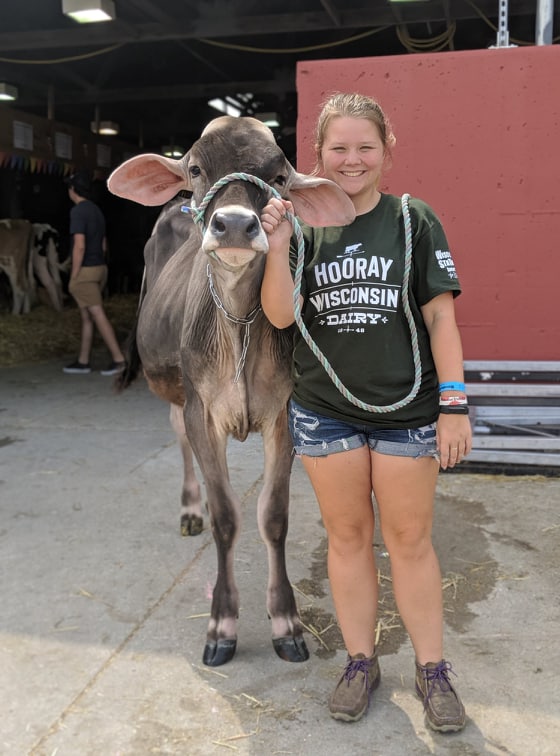 "I love when people come up to me and ask questions," Garbers said. "I love answering their questions, and I love hearing what they want to know because everybody wants to know something different."
Garbers said she hoped to someday work in the dairy industry, and showing at the Wisconsin State Fair is an opportunity for her to develop communication skills.
Over in the swine barns, Rhett Swenson, 13, of Sparta felt a similar passion for his pigs. Swenson said he has been showing for almost five years, and his favorite part is the chance to meet new people.
"It is nice to tell people about it, because some people just don't know stuff about pigs, and they get really surprised when most of the pigs aren't even a year old," Swenson said.
Showing with his cousins as part of Swenson Fine Swine, he took home plenty of hardware this past weekend earning reserve champion in the Poland China Gilt show and Grand Champion in the Hampshire Barrow show.
His cousin, Holly Harris, 16, said these experiences are also helping her focus on finding a career in agriculture for her future. She is currently debating a degree in veterinary science. Holly said being a fair exhibitor is more than just fun and games.
"It is a lot of hard work that you put into it," Holly said. "You have to wash them every day and work with them and make sure they know what is going on."
Kassie Harris, 19, explained some of that work. She said her aunt and uncle's farm has about 30 sows, and the work for pigs begins the moment they are born. They farrow piglets in January or February and over the summer. Kassie said her family tends to their needs like providing vaccinations and identification for each animal. They begin training their fair pigs by April.
"It is a great bonding experience for our family," Kassie said.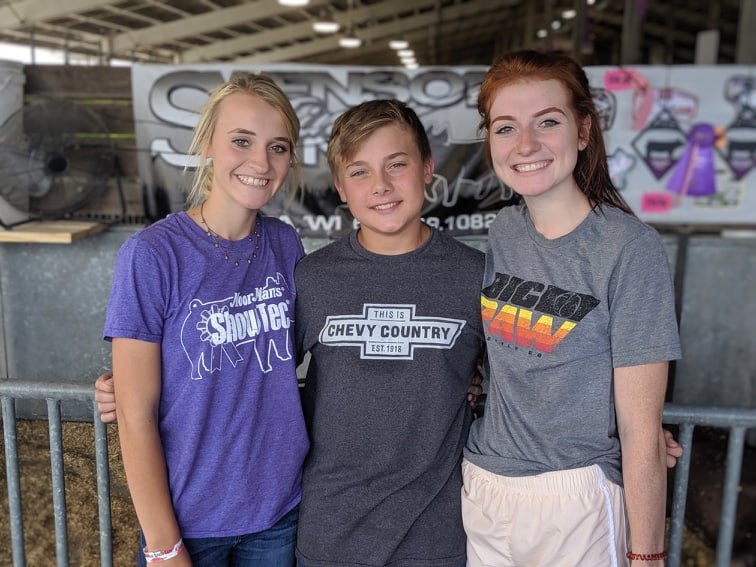 Kassie is studying radiography in La Crosse. While it may be a far cry from swine, she said skills developed in the show can help with any career.
"I think it makes you a hard worker and helps you gain communication skills talking with everybody throughout the barns and being able to realize that some people don't agree with the way that you think that things are," Kassie said.
The family travels to multiple shows beyond the Wisconsin State Fair including World Pork Expo and local county fairs. This is Kassie's last year of being able to show as a junior.
---
Reader's opinions
---