The First Major Storm of the Winter Will Impact the Area on Friday
Written by Brandon on December 8, 2021
The weather pattern has been fairly quiet lately outside of a disturbance here and there. However, that will change later this week as the first winter storm of the season has its eye on the Tri-States Friday afternoon into early Saturday.
The National Weather Service in La Crosse has issued a **WINTER STORM WATCH** for parts of northeast Iowa, southeast Minnesota and western Wisconsin beginning Friday afternoon and lasting until early Saturday morning.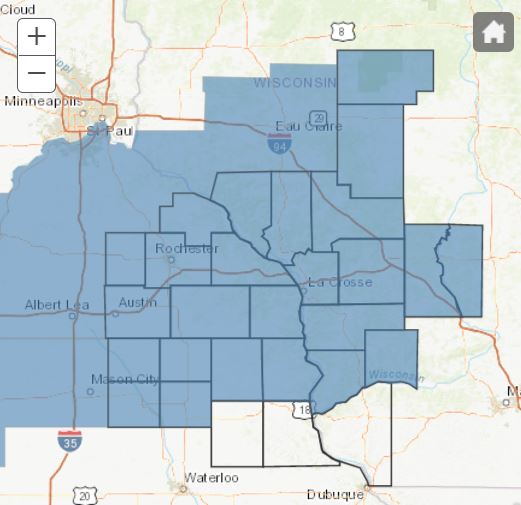 Additional counties may be added to the Watch as Friday gets closer, and the track of the storm gets nailed down further. At that time, it's possible that Watches will be upgraded to Winter Storm Warnings.
IMPACTS
Snow will begin to develop Friday afternoon and last late into Friday night or early Saturday morning. The snow may be heavy at times which will lead to reduced visibility (especially in open, rural areas), slick roads and hazardous travel especially for the evening commute. As of Thursday morning, snow amounts of 3″ are possible in northeast Iowa to as much as 10″ (some locally higher) from southeast Minnesota into western Wisconsin. However, expect some tweaks to the snow forecast once the track of the system becomes more clear. Any shift in storm track, north or south, could alter snow amounts depending on where the heaviest snow band sets up.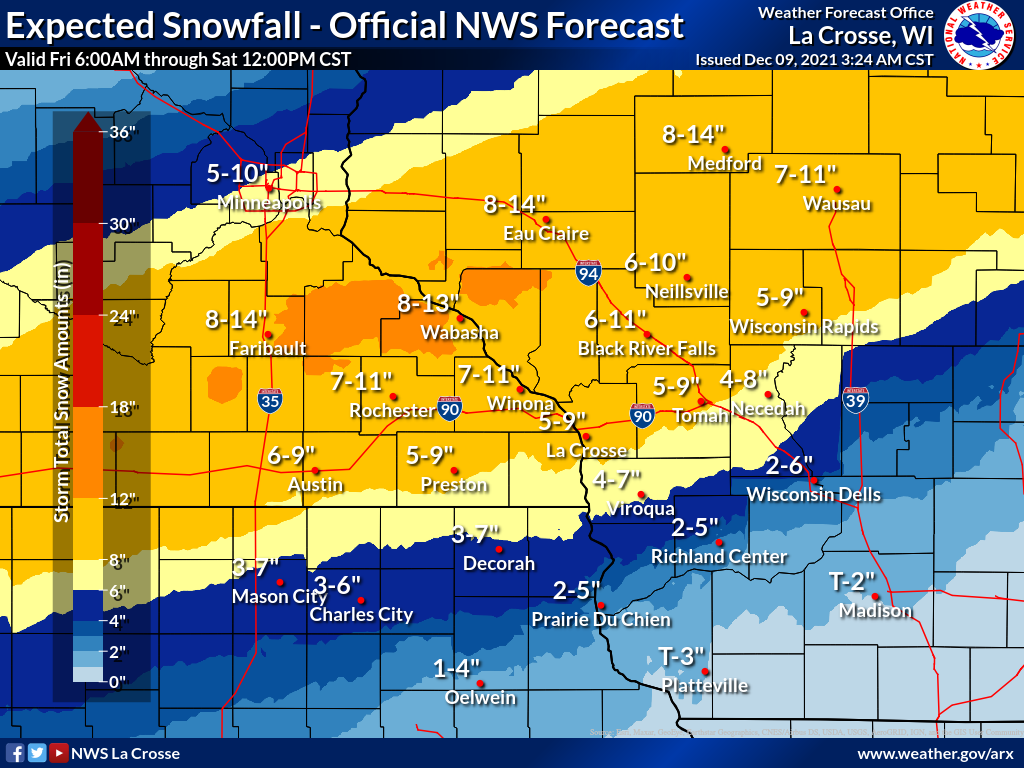 Also, winds may gust into the 30 mph range on Friday night resulting in blowing and drifting snow especially in open and rural areas. The extent may be limited due to how "wet" or heavy the snow is. Regardless, travel will be especially difficult in these areas.
Bottom line: the first major winter storm of the season is on its way. PLAN AND PREPARE accordingly. Expect updates and tweaks to the forecast as the storm draws near. Below, you can follow the National Weather Service in La Crosse social media pages and website for the latest.
NWS La Crosse Facebook
NWS La Crosse Twitter
NWS La Crosse Website
Cover photo: AP Photo/David Zalubowski
---
Reader's opinions
---