Vikings Say Hukuna Ma "Ta-Ta" To Motown With Win Over Lions
Written by Tony Schultz on October 20, 2019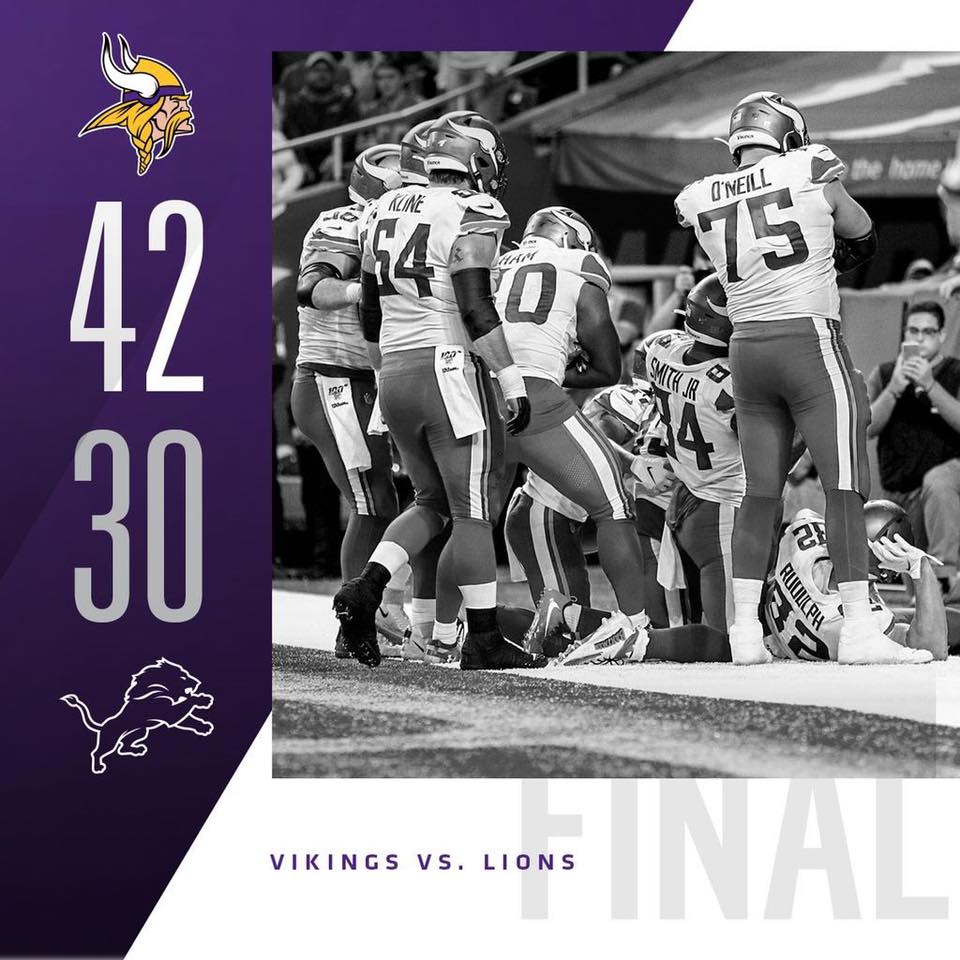 The Lions are not a bad team. They are not the Lions of old where they would fold, or find a way to screw up a game in the waning moments to let victory slip from their grasp. At home they seem to live off the home field advantage even though their fans barely get off their butts unless it's to beat traffic near the end. So I was apprehensive about the matchup today. The Lions didn't disappoint. Matthew Stafford is an elite quarterback and has some really good wide receivers to throw to. Marvin Jones always seems to torch the Vikings at Ford Field. The Lions defense is pretty good even though they were racking up injuries like they were lining up to receive them. However, the Vikings offense seemed virtually unstoppable all day long. That was the difference between going home with a win instead of leaving the usual house of horrors that Detroit has been.
Remember a few weeks back when Kirk Cousins was terrible and people wanted him benched or cut? I remember. Not many of his detractors seem to. I don't expect to see the Twitter feeds blow up with apologies, but they sure seem to have crawled deep into their hater holes this week. Cousins was 24 of 34 for 337 yards and 4 touchdowns. Should have been 5, but Stephon Diggs let a beautiful pass fall through his hands in the end zone. Dalvin Cook had a somewhat quiet but steady game and racked up 147 yards on the ground and got into the end zone twice. Adam Thielen tarted the game with a great TD catch. Unfortunately he strained his hamstring on the catch and was wearing a ball cap the rest of the afternoon. Diggs is going to draw more coverage there, but never fear! Olabisi Johnson stepped up and had four catches and a touchdown. Also, Kyle Rudolph and Irv Smith got more action with catches a piece and Rudy getting a score for the first time this year. It just goes to show that the Vikings have several weapons on this team and can adjust to who's available. Let's not forget the offensive line! Holy cow! No sacks on Cousins the entire game and they were opening holes all game long for the running game. When you hear an offensive lineman's name called its usually a bad thing. The offensive line had such a good game that you barely knew they were there. That's a great thing!
Some will look at the Vikings defense and be down on their performance today. As I mentioned before there is just something about playing at Ford Field that defensively the Vikings get discombobulated and the Lions receivers get hot. They did a pretty good job and they sacked Matthew Stafford twice, but they had some miscommunications that kept the Lions moving at times. On the Lions second to last drive the Vikings were playing some prevent defense to keep the ball in play to keep the clock rolling. They got a little too loose and the Lions drove down way too easy and scored with plenty of time left in the game. That's when offensive coordinator, Kevin Stephanski got tricky in a great way. He was running the ball to milk the clock with the lead when he had Kirk fake out the entire stadium including announcer Paul Allen who thought Alexander Mattison was running it. Instead Cousins rolled out and hits Diggs on the run at the 30 and he ran it down to the three. Dalvin Cook bullied his way in for his second score. The Lions tried one last drive but Trae Waynes intercepted a long throw and that shut the door on the Motor City Kitties right "meow".
It's a short week for the Vikings as Washington comes to town Thursday night. Future Hall Of Famer Adrian Peterson and "Miracle Man" Case Keenum – both Vikings heroes will be a big part of the narrative even though the Redskins are only a one win team. So will the fact that Kirk was the Washington quarterback for six years before the Vikings signed him last year as a free agent, and his inability to win "primetime" games . Regardless the focus of that game should be the Vikings getting another win and Kirk casting out more of his professional demons. For today though we'll just concentrate on another big win.
---
Reader's opinions
---