---
Vikings Swarm Falcons in Season Opener
Written by Tony Schultz on September 10, 2019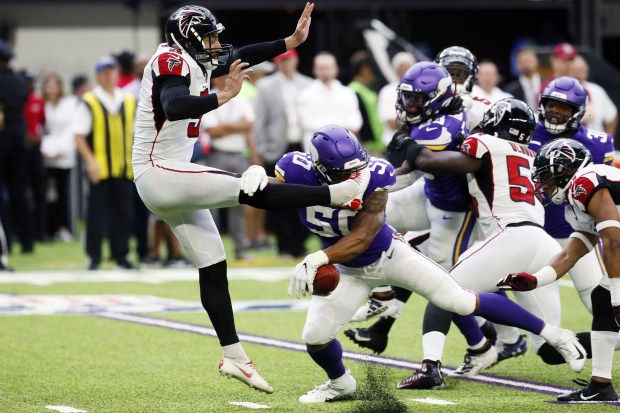 Well to say I wasn't a little nervous before the Vikings took on the Falcons before the game started would be a bit of a fib. I knew they could win this game, but it was going to be close. With the last few years of being nervous of anyone kicking for the Vikings and a penchant for fumbling games they should play better in I thought for sure purple and gold fans would be chewing their fingernails down to nothing.
My concerns were quickly assuaged after the first shotgun snap barely touched Matt Ryan's hands as Anthony Barr came on a blitz and Ryan had zero chance of avoiding it. The Vikings quickly forced the Falcons into a 3-and-out and into punt formation. Eric Wilson decided to make sure that punt didn't get very far as he streaked through the line and blocked the punt which the Vikings recovered. After an initial holding call on a play that saw running back Dalvin Cook get inside the 5 yard line the team let Kirk Cousins do his thing and he let Adam Thielen do his. Kirk hit the homegrown wide receiver and Thielen fought off a tackle and barreled into the end zone. The Vikings never looked back.
SEE FULL GAME HIGHLIGHTS HERE: VIKINGS.COM
The purple clad team took it to the Falcons defensively for the rest of the contest and scored to put themselves up comfortably. Enough so that Cousins only threw 10 passes the entire game, and 8 of those were completions for less than 100 yards . Anthony Harris was making an early Pro Bowl bid as he picked off Matt Ryan twice and recovered a fumble to stop 3 drives. The Vikings scored 3 more times with Cousins jumping over the pile to score once, Cook running in 2 additional scores and Dan Bailey hitting all his extra point kicks. Atlanta scored 2 touchdowns in the 2nd half, but they were late and really had no effect on the game and the Vikings stopped both 2 point conversion attempts. Some people have scoffed at the low passing yards, but when the defense is so stout and the running game is effective you don't need to throw too much and risk turnovers.
Not every game is going to go this smoothly or be this easy. However, it was a great start to the season and everyone could breathe a bit of a sigh of relief. After last year felt like a complete letdown it was a good way to get the fanbase back on the bandwagon and in a positive mood. One concern is injuries as corner back Xavior Rhodes left the game with a leg injury, but returned and corner Mackenzie Alexander got what was reported as an elbow dislocation. That makes an already thin backfield thinner at that position as Holton Hill sits out 8 games due to suspension and Mike Hughes is still getting to full speed from a knee injury suffered last year.
Get ready to grate the cheese this week! Next up: the Vikings travel to Green Bay to take on their division foes, the Packers who squeaked out a 10-3 win in Chicago on Thursday night to kickoff the 100th NFL season. Pregame at 11AM with kickoff at noon.
---
Reader's opinions
---