VIKINGS DRAFT UNPREDICTABLE WITH NEW LEADERSHIP, BUT I'LL GIVE IT A TRY
Written by Tony Schultz on April 26, 2022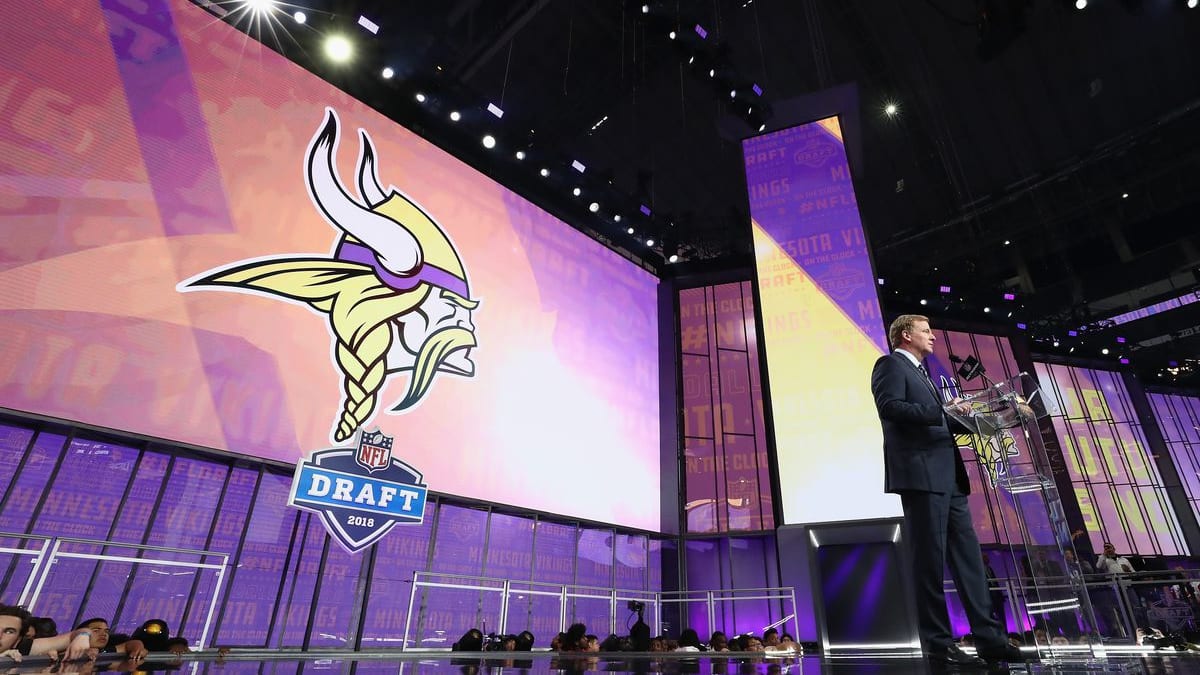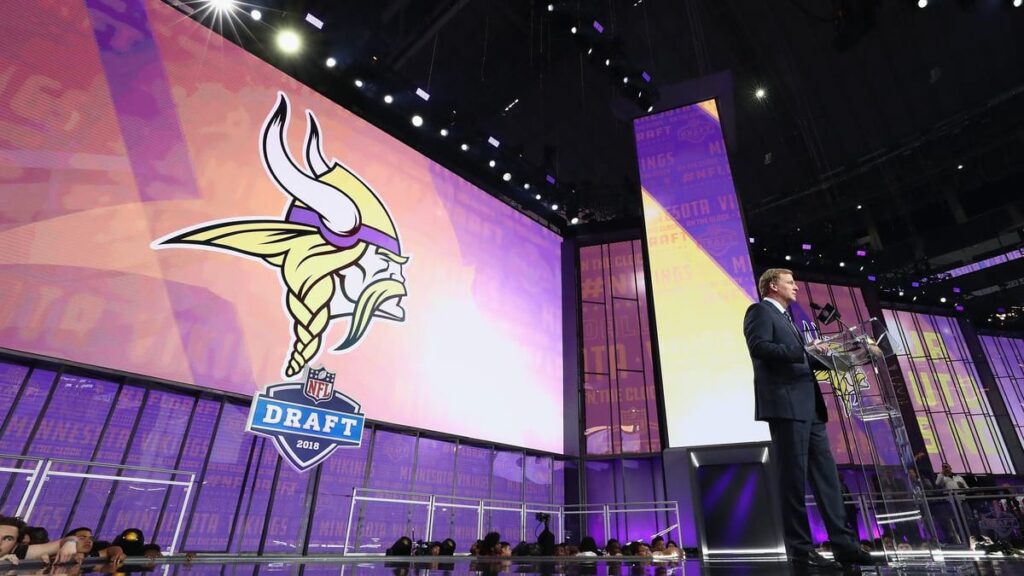 Every year the NFL holds their annual draft where the new stars of the game may be chosen. I say "may be" because no matter how good a player is supposed to be they may become more infamous than famous if they are a bust. Ryan Leaf, Curtis Enis, Charles Rogers, Tony Mandrich, and many, many more were touted as players that were going to take their team to the next level only to fall to the wayside as players that never gave their team all they were expected to do. Every team has more names of players that did little on their team or absolutely nothing than they have of super stars that headed to the Hall Of Fame. Players that all the experts said would be great players in the NFL and the team drafted the best player at that time. The draft is the biggest crap shoot you'll find in sports where a 1st rounder never does anything and a 7th rounder can go to the Hall Of Fame.
I Love this time of year! I love to speculate on college players that come out and how they fit a team, but especially those that the Vikings draft. I have seen the bad decisions and good decisions over the year: Dennis Green passes on Warren Sapp was bad. He drafts Randy Moss in 1998 was good. Rick Spielman drafts Adrian Peterson was good. Spielman drafts Christian Ponder was bad. Spielman was the general manager for 15 years and I never really had a problem with his draft picks over the years, but when he was let go along with 8 year head coach, Mike Zimmer this year there were many stories that came out that his draft strategy was questioned by others in the war room – Zimmer for one and that his penchant for moving back in the draft and acquiring more picks was becoming nauseating and caused the team to miss out on players that would have helped the team. Some of those players have gone on to have immediate impact in the league. Drafting wide receiver Justin Jefferson was his last real shining moment as last year's pick, left tackle Christian Darrisaw has only had the opportunity to show flashes of his potential. The Vikings' draft had become pretty predictable with Rick at the helm. Now with Kwesi Adofo-Mensah at the helm and new head coach, Kevin O'Connell this year's draft – starting at 7PM on the NFL Network, ESPN, and other social media outlets has become unpredictable. Kwesi is more of an analytical mind when it comes to players and O'Connell is an offensive minded coach so even though there may be defensive players available at the 12th pick and there is a need for those players don't be surprised if an offensive player is taken. In 1998 with Cris Carter and Jake Reed on the team it was thought the Vikings wouldn't need another wide receiver, but Moss was seen as a once in a lifetime player which made a team strength stronger. I've been doing my best to see what scenario plays out for the purple squad and my guesses for Thursday night and the two following days. There is no clear number one pick in this draft which keeps things very fluid along with several teams having multiple 1st round picks which could generate a flurry of draft day trades. Those trades could change everything depending on where teams actually value certain players.
Jaguars – Even Neal – OT – Alabama The Jaguars drafted Trevor Lawrence as their franchise QB and they need to protect him at all costs. Neal has the talent and the pedigree to keep Lawrence upright for the most part, and current LT Cam Robinson might not be around for much longer due to contract issues.
Lions – Aidan Hutchinson – DE – Michigan The Lions need defensive pressure and Hutchinson is the best all around player in the draft. Being from Michigan also helps on the public relations front. Their head coach, Dan Campbell is a defensive guy and loves guys like him.
Texans – Kayvon Thibodeaux – DE – Oregon The Texans are in full rebuild mode at every position. Getting a dynamic pass rusher won't get the fantasy football owners excited, but they need to start somewhere. Thibodeaux at least gets them that defender that will make some highlight plays to ease the burn of a long season filled with losing.
Jets – Derek Stingley – CB – LSU Stingley has been jumping up in discussions around the league for his impressive pro day performance and that he appears to be back from his previous injury. The wide receiver class is deep and the team can get one at pick 10.
Giants – Trevon Walker – DE – Georgia The Giants need help at some key positions, but defense needs it the most. Walker has been discussed as jumping up draft boards to maybe even be pick number 1. However, if he's here the Giants take him. If a team covets a player such as a quarterback this could be the first spot a trade might happen to jump the Panthers, but not likely.
Panthers – Charles Cross – OT – Mississippi State The Panthers need someone to protect their current quarterback, Sam Darnold or whoever they stick back there. Rumors are swirling that they may be trading for Baker Mayfield as well. So either way they need this position filled with a great pass blocker. The Panthers also are a perfect spot for a trade as they don't have any 2nd or 3rd round picks and a team may want to jump the Falcons for a wide receiver or quarterback.
Giants – Garrett Wilson – WR – Ohio State The Giants got their defensive player earlier and balance it out with a wide receiver for quarterback, Daniel Jones. Might be a trade here, but doubtful as the team has 5 picks in the first 81 slots.
Falcons – Jameson Williams – WR – Alabama Williams tore his ACL last season in the National Championship game, but his previous tape doesn't lie. He's fast and very good getting downfield. The Falcons wait until later or even next year to get a quarterback when the class of QBs is considered stronger. Defensive tackle is possible here as well.
Seahawks – Malik Willis – QB – Liberty Seattle traded away Super Bowl winning quarterback Russell Wilson in the off season to Denver. Willis has a lot of the same attributes as Wilson did when he was younger and Pete Carroll is kind if stuck in his ways as a head coach. He'll want the excitement Willis could potentially bring to make people forget about Wilson.
Jets – Drake London – WR – USC The Jets might not have this pick if the 49ers trade Deebo Samuel to them, but if they do they take one of the most productive wide receivers in the draft. He broke his ankle to end his college career, but that is an injury that is easily overcome. He's a big target at 6'5″ and could be the weapon the Jets need to improve their offense from last year.
Commanders – Kyle Hamilton – S – Notre Dame Hamilton has been tagged as one of the best players in the draft due to his size and play making ability. A 6'5″ safety is very rare and his ability to cover and tackle has been very impressive. He had a slow 40 yard dash time at his pro day so some are concerned about that, but the tape doesn't lie. There has been some speculation he might go sooner, but safety is an undervalued position in the NFL no matter how good a prospect might be.
Vikings – Ahmad Gardner – CB – Cincinnati If Gardner is there for the Vikings to pick I believe they run to the podium to snatch him. He is one of the best corner backs in the draft, and it is a position of need as well with an aging Patrick Peterson and a inconsistent Cam Dantzler. He could become a star in the league and be a shutdown corner. If Hamilton or Stingley falls here they could also be the pick. However, the Vikings are in a perfect position for trade partners if all three players are gone with the Eagles and Saints with multiple first round picks and the Texans and Baltimore ahead of them. They may try to jump those teams or each other for defensive linemen or one of the best linebackers. If the Vikings do trade down into the 20s look for them to take DE Jermaine Johnson from Florida State.
Texans – Trent McDuffie – CB – Washington The Texans have so many holes it is basically a scatter blast of names that might land here. I say corner only to make the defense better on both ends and maybe look at at QB later on or next year.
Ravens – Devin Lloyd – LB – Utah The Ravens have a tradition of having a strong line backing corp in their history. Lloyd is arguably the best LB in the draft and he would be a great addition to their defense. He's the most well rounded and can play against the run and pass.
Eagles – Nakobe Dean – LB – Georgia The Eagles are in desperate need of a better line backer crew. Dean is fast even though he's a bit on the light side. His tackling is strong and he's good in coverage of tight ends.
Saints – Chris Olave – WR – Ohio State The Saints need a QB in a big way and it wouldn't surprise me if they draft Kenny Pickett here. However, they need some to throw the ball to and Olave teaming up with Michael Thomas could make Jameis Winston have a bit of a resurgence as a QB. His route running and speed make him an easy choice. The Saints may trade up from this spot as well to secure one of the WRs or LBs they covet more than Olave.
Chargers – Ikem Ekwonu – OT – North Carolina State The Chargers have TWO picks in the draft. That is not much to work with. So if they don't trade down and acquire more picks they need to draft perfectly. Ekwonu is the most solid tackle to take at this spot. They need to keep Justin Herbert upright and they could play Ekwonu at right guard and have bookend tackles for several years with Rashawn Slater on the left side. I think they trade down though.
Eagles – Andrew Booth – CB – Clemson The Eagles go defense again and strengthen that side of the ball on the backside. He's not as special as the previous corners taken, but he's big for the position and has the clout from Clemson playing against some of the better players in college.
Saints – Jordan Davis – DT – Georgia They could use more on the offensive side of the ball, but they could use more punch on the defensive line. The Saints take the fastest d lineman in Davis who can get up the middle and put pressure on opposing QBs.
Steelers – Kenny Pickett – QB – The Steelers patience has paid off. They waited and get the QB they feel is the better fit for their offensive scheme. They might try to trade up from this spot if they get the feeling that other teams in front of them will clean out the available QBs, but in this scenario they didn't have to make a move.
Patriots – George Karlaftis – DE – Purdue Karlaftis is what they call a bit of a "tweener" meaning he is in between being a hand in the ground defensive and and a stand up linebacker in the 3-4 defense. He can be a monster off the edge, but he can disappear as well when playing bigger opponents as he did against Daniel Faalele of the Gophers.
Packers – Treylon Burks – WR – Arkansas I had a hard time actually picking a WR for the Packers here. They never seem to take one in the first round and the draft is deep with them, but no one else on the board fits what they need and they have another first rounder coming up. They give Aaron a weapon he needs.
Cardinals – Tyler Linderbaum – C – Iowa Linderbaum is the highest rated center in the draft and comes from a strong lineman school in Iowa. He is a bit short in some measurables though and might not be able to stand up to the bigger, longer arms of NFL DTs. He copares to Garrett Bradbury who also came out highly touted, but has struggled at times.
Cowboys – Zion Johnson – OG – Boston Ezekiel Elliott needs more room to run up front and Dak Prescott needs more time to throw. Johnson fits the bill making the interior of their offensive line stronger. Zak Martin is coming to the end of his run and he may be the heir apparent at the spot or move McGovern from his spot.
Bills – Devonte Wyatt – DT – Georgia The Bills have a strong defense and this just makes them even better. Wyatt is a big, strong DT with very good push up the middle. He's explosive off the ball With the QB competition in the AFC they will need more pressure from their d line.
Titans – Bernhard Raimann – OT – Central Michigan I think the Titans are upset the guys they really wanted aren't there and they take Raimann to play either OT or guard. This gives Ryan Tannehill more time to throw and pave the way for Derrick Henry to rack up more yards on the ground.
Buccaneers – Travis Jones – DT – Connecticut No, he isn't a basketball player. The Bucs need more offensive line help to keep defenders off the ageless wonder that is Tom Brady, but there isn't anyone to fit the bill here. Tyler Smith from Tulsa is also a possibility to play guard. The massive Jones will plug up the middle freeing other defenders to run around a bit more to make plays.
Packers – Tyler Smith – OT – Tulsa Smith can immediately help on the offensive line at guard and be ready to step in if Bakhtiari were to get injured. They gave Rodgers a WR, now they add protection.
Chiefs – George Pickens – WR – Georgia After trading away Tyreek Hill the Chiefs lost a key weapon on offense. Patrick Mahomes need another target to throw to. Pickens had a torn ACL, but he's worth the risk at this pick and fills a need.
Chiefs – Kaiir Elam – CB – Florida The Chiefs also need a bunch of help in their defensive backfield. With the WR depth they maybe even take two corners here just to strengthen the defense and give better depth. The combination could also be CB and a defensive end like Boye Mafe or Jermaine Johnson.
Bengals – Kenyon Green – G – Texas A&M The only thing missing from the Bengals is strong offensive line play. They got to the Super Bowl despite their line being very poor and it showed in the big game. If it isn't a lineman of some sort here they will continue to struggle.
Lions – Quay Walker – LB – Georgia Walker is a stud at line backer and that's hat the Lions need. The have some gaps at other positions, but he fits the bill right now. The other holes they have can be filled in this draft and they can take a wide receiver two picks later at 34.
Vikings 2nd round: WR Christian Watson 3rd round: LB Leo Chenal/Troy Anderson Other players to watch for: TE Greg Dulcich, G Cole Strange, G Joshua Ezeudu, S Daxton Hill, S Jaquon Brisker
---
Reader's opinions
---